archival riches
OK, it's time to tell you about something that I still can't believe exists, and which I want to share with you. And which you should share with anyone you know who might be interested.
Three years ago, I started putting together a giant list of potential archives I thought I needed to visit for researching my book. I was applying to a grant from Maryland — one that I very gratefully received! — for summer 2017 research funding, and was trying to figure out where I needed to go. The New York Public Library was definitely on the list, for its significant and relevant collections including Jacob Druckman's papers, the archives of EAR Magazine, Pauline Oliveros's materials, and a lot more (all of which turned out to be very useful for my book). Another was the NY Phil's archives — again, great, and again, extraordinarily helpful for my book and my forthcoming Musical Quarterly article. There were materials at NYU's Downtown Collection that I visited, materials at BAM's archives that I did not. There were various private collections that I wanted to check out, some of which I did — Petr Kotik generously let me poke around the S.E.M. Material's old binders. Then there were a bunch of places where I wasn't sure what the archive entailed, whether it was publicly accessible, or whether it would be worth visiting. I probably still should go check out the Mary Flagler Cary Charitable Trust materials in Rochester, as they were an enormously important granting organization for new music.
One of those question-mark-archives was that of the New York State Council on the Arts. NYSCA is the state version of the NEA — it actually preceded the NEA, and served as a kind of model for public arts granting — and it funded a lot of new music, from the New Music, New York festival to Composer in Performance, the precursor to Meet the Composer. I had also read Charles Wuorinen's complaints about how, in the late '80s, NYSCA had cut funding to the Group for Contemporary Music and other ensembles because they failed to program music by black and women composers. And what do you know? In Albany, apparently, the New York State Archives had a collection, comprising 1,853 feet, titled "New York State Council on the Arts Grant Application Files." It listed files for the Group for Contemporary Music, for Meet the Composer, for Speculum Musicae, and, yes, for Bang on a Can. A trip was in order.
And then, for a variety of reasons, a trip didn't happen. Fortunately, as it turned out, the New York State Archives will, for a fee, scan this material and make it available to scholars on request. I started to place some pretty hefty orders — all material that they had on file, from around 1980 or so to 2000, for about a dozen different organizations related to music. Over subsequent months, the digitizations began to trickle in, and I refined my orders a bit, requesting more specific years and a smaller list of organizations. They charge $.25 per page for scans, which sounds like a lot, but it also means that you can get 600 pages of scans for about $150. In theory, it's a lot cheaper (and easier) than going to Albany, requesting the documents be pulled from offsite storage, and taking those photos yourself. Luckily, I was able to secure funding from UMD.
Over the last couple years, I have obtained about 6,000 pages of scanned grant materials related to New York State Council on the Arts funding from 1980 to 2000 for Bang on a Can, the Da Capo Chamber Players, Speculum Musicae, Experimental Intermedia, Group for Contemporary Music, and Meet the Composer. I cannot overestimate how significant these materials have been to my research, and potentially to anyone working on music in the late twentieth century U.S.
Each file that I have obtained has included the likes of:
Extremely detailed estimated and final budgets for each organization, as well as financial audits.

Bios, program descriptions, staff listings, and other basic organizational info.

Lists of all concerts programmed and audience numbers for attendance at those concerts. (!!!!!)

Descriptions of audit meetings held between state council officers and members of these organizations (e.x. what David Lang said to NYSCA about Bang on a Can in 1988).

Actual audits of concerts held by these organizations: essentially, longform detailed reviews written by freelancers hired by NYSCA — many that I've seen were written by Steven Swartz (including his audit of the very first Bang on a Can marathon).

Grant adjudication: comments by NYSCA staff as well as comments from anonymous peer panelists (including their infighting) about whether or not to award the funding. (!!!!!!!!)

All kinds of other supplemental information, correspondence, brochures, etc etc.
If NYSCA awarded a grant to a composers or institution you study, that means there's likely a fat archival record for it, comprising anywhere from a dozen to a couple hundred pages. Meredith Monk? Check. Steve Reich? Check. Check out their annual reports if you want to know.
I have had access to Bang on a Can's internal archives for several years now, but the NYSCA materials have opened up a vast amount of information that I had not seen before — especially regarding Bang's very early years — that have fundamentally reshaped aspects of my narrative about the organization.
Here are some things I've been able to figure out, for my book, because of this incredible source:
How many people attended new-music concerts in the '80s from various organizations, from Phill Niblock's Experimental Intermedia loft to Speculum Musicae's uptown shows.

Detailed descriptions of what happened at these concerts, and who was there, from auditors. These are often much more precise than New York Times reviews (and often better written). E.x. Swartz on a 1986 concert at Intermedia: "About 15 listeners attended; about 1/3 were student age, the rest 30ish. It was an informally-dressed group, hirsuite and thoughtful."

Complete descriptions of the annual incomes for a half-dozen organization I'm tracking in my funding chapter. I can see how public, individual, corporate, and foundation funding fluctuates in the two decades I'm study; most remarkably, I've traced Bang on a Can's increasing budget through a period in which most of its peers were foundering. I can break down Bang on a Can's annual income in terms of all of its revenue streams, and figure out what its greatest sources of new revenue were in a time during which public funding was being cut. If you were at AMS, you saw my big "Bang on a Can budget graph," which is drawn from hours of synthesizing information from these NYSCA reports, and will be in my book.

I can get a sense for how the Culture Wars budget cuts of the '90s affected individual new-music institutions, and how they tried to justify resources for themselves in a period of arts austerity.

I have a rich insider picture of attempts to enact multicultural arts policy in the '80s and '90s — what Wuorinen was complaining about — and how the Group for Contemporary Music pushed back against NYSCA's advocacy, and how other organizations grappled with it. This forms a large portion of my funding chapter, and is also the basis for this talk I'll be giving at SAM and at Bowling Green in the spring:

25–29 March. "Multiculturalism, Neoconservatism, and New Music's Marketplace Turn amidst the Culture Wars." Society for American Music national conference, Minneapolis.

"Are you apprehensive about what the politics of 'multiculturalism' is going to mean to the future of our civilization?" asked a 1990 mailer for The New Criterion. The neoconservative journal was seeking out new subscribers amidst the Culture Wars, a referendum on the role of government funding of the arts. And though the focal point of right-wing ire was visual artists like Robert Mapplethorpe, the Culture Wars and conservative attacks on multiculturalism had significant consequences for American composition, which have not yet been scrutinized by scholars.

This paper examines how the Culture Wars were refracted in new music, through an analysis of a major debate around the New York State Council for the Arts. In the early 1990s, the Council introduced program guidelines advocating for grantees to take a multicultural and audience-focused approach, which incited indignation among musicians such as the neoconservative composer Charles Wuorinen. Drawing on archival research, interviews, and reception, I trace how these changes in government funding shaped the differing fates of two new-music institutions: the decline of the Group for Contemporary music, a pioneering ensemble co-founded by Wuorinen that emerged during the '60s wave of funding for academic new music; and the ascent of Bang on a Can, a market- and multicultural- friendly organization that expanded dramatically in the early '90s. Examining the intertwined paths of these two institutions, I argue, reveals the decline of Cold War logics that shaped midcentury American modernism and the rise of a marketplace turn in American composition.

I have detailed descriptions of each of these organizations talking about their purpose, and what they do, and how that changes over time.

I have a sense for what NYSCA's staff and panelists wanted to fund, what they fought about funding, and what they didn't want to fund.

And, honestly, that's only scratching the surface of what's there.
In theory, if one had a lot more time and research $$ available, one could pull materials for dozens of new-music organizations and construct a massive, empirical study of the economic history of new music in the late twentieth century U.S. I don't know if I want to do that, but the information is all out there.
Plus: All of the material is publicly available, and no specific permissions are needed to quote from any of it, which is incredible.
---
I want to get the word out there about these archives, because they are a potential gold mine for researchers, and I had no idea they existed. I'm obviously not the first person to figure this out — it's all hiding in plain sight — but as far as I can tell, they haven't been used by other musicologists. (PLEASE correct me if I'm wrong!)
And though you do need to pay for the scans, they're much less financially prohibitive than a lot of trips to archives, and require little work. Look at the finding aid to see what's there (and consult annual reports to confirm what years might be relevant); email ARCHREF@nysed.gov with a potential request; wait several weeks/months while they prepare the materials; and then pay for it, and download the PDFs. I am extraordinarily grateful to the staff at the archives for preparing these materials for me, to NYSCA's Ronni Reich for pointing me in the right direction, and to UMD for supplying research funds to obtain it.
---
Baltimore folks: I'm giving a talk at Peabody next Tuesday — my spiel on Bang on a Can and the record industry in the 1990s
---
Georgia's birthday was this week! We adopted a year ago on Monday, and they told us she was around 1, so we're calling it her second birthday. Here's one of the best pics of her, and of anything, ever: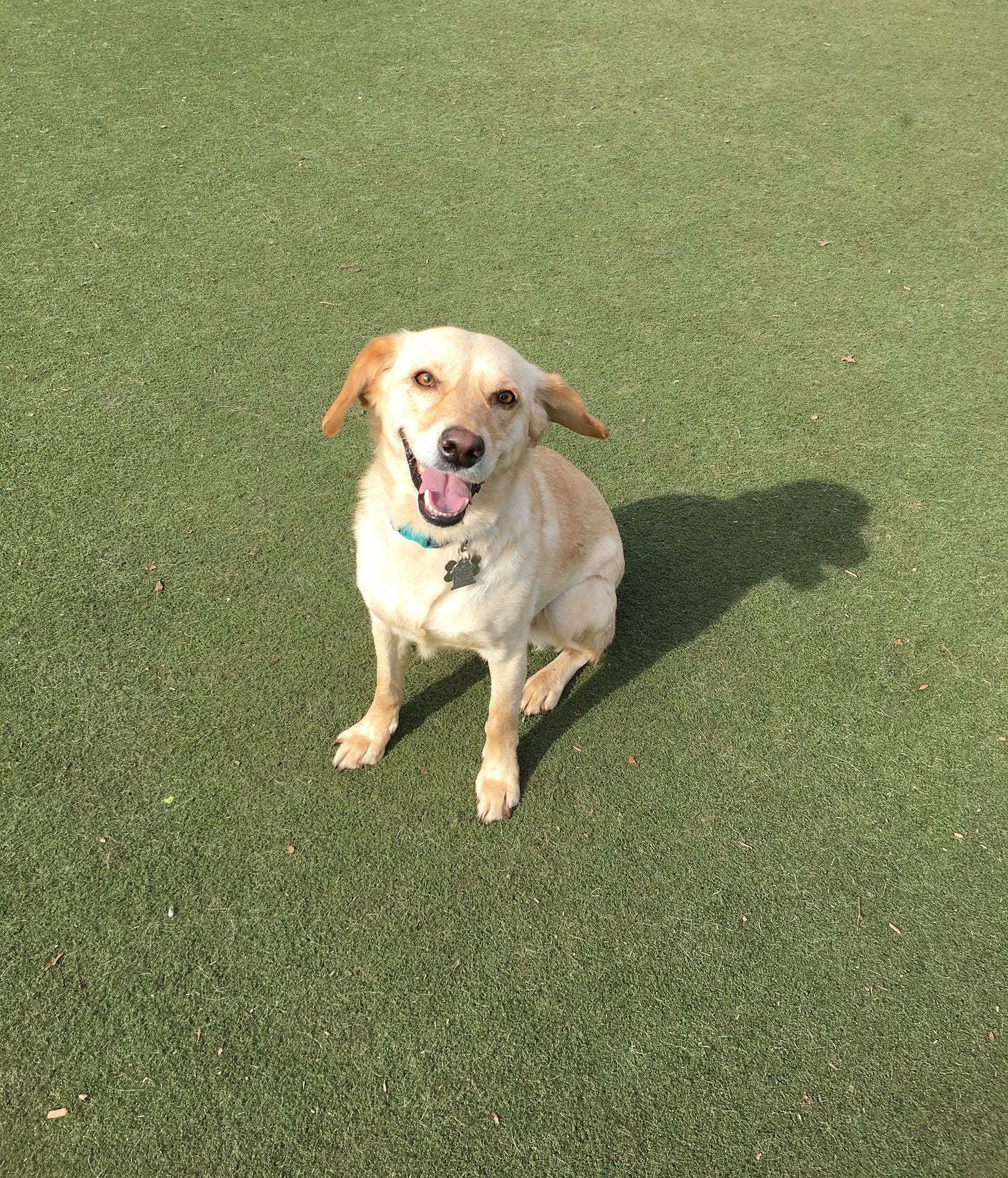 And here's her enjoying her birthday treat: