what happened?
Hi friends! It's time for another issue of Industry. This is coming at you from MASS MoCA, where I'm enjoying a beautiful week at Bang on a Can's summer festival. In the final stages of the book writing process, it's good to be surrounded by Bang on a Can its most concentrated (and present-day) form, a nice way to confirm hypotheses or complicate expectations. Read media fellows Hannah Edgar and Elias Gross's stellar first round of dispatches over at New Sounds here; more will be online from our other two fellows, Jeremy Reynolds and Vanessa Ague, today.
---
You all should check out musicologist Michael Palmese's new article in American Music on John Adams's early work, pre-China/Phyrgian Gates, which the composer has mostly disavowed and the world has largely forgotten. (It's paywalled; if you respond to this newsletter, I'll send you a PDF!) I've seen Michael present this paper a couple times and it was always super exciting to me to hear about the weird and wacky stuff that Adams was up to in the early/mid-'70s, prior to his neo-Romantic/postminimalist phase, when he was in a more overtly experimental phase. There's the Burroughs- and Stockhausen-inspired Heavy Metal, a 40-minute dance piece called Hockey Seen, and the Cagean indeterminate choral work Ktaadn -- Michael's got all the deets, and he's tracked down scores and recordings that Adams thought didn't exist.
There's a crop of researchers doing fascinating new work on Adams—Palmese as well as Ryan Ebright, Alice Miller Cotter, John Kapusta, and probably others I'm forgetting. They're digging into the archives and providing new perspectives on our now-mythologized America's Great Composer. The question these scholars raise are fundamental one for interrogating the long careers and Public Greatness of not just Adams, but also other big names like Reich and Glass: how ostensibly radical and experimental figures in fringe scenes in the '60s and '70s self-consciously willed themselves into a classical music mainstream. See, for example, what Palmese is talking about here: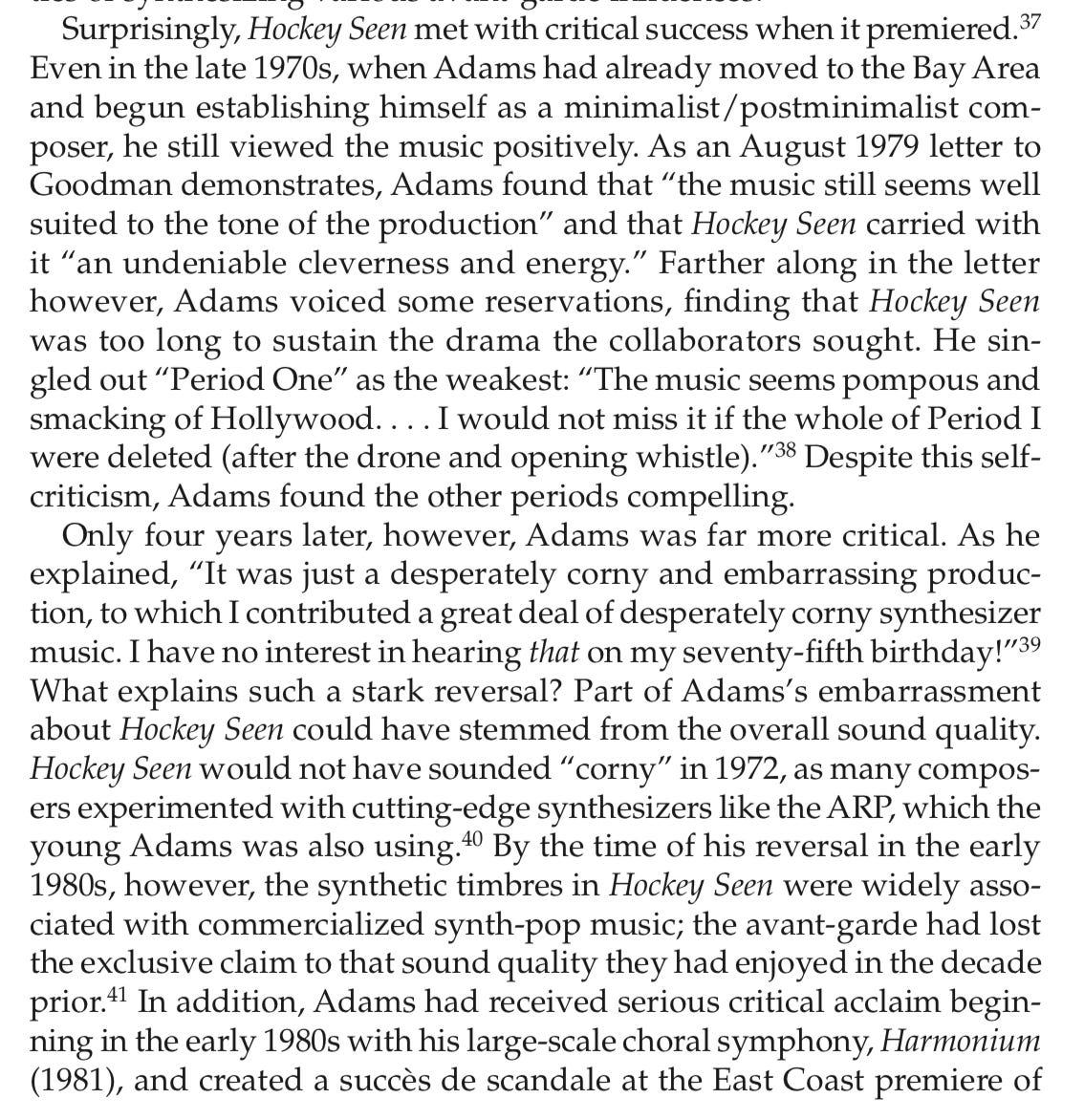 Adams might have preferred to forget Hockey Seen, but we shouldn't.
---
I'm about halfway through reading Rethinking Reich, an essential new volume of scholarly essays that deals with similar issues. A big question hovering over the volume, as Robert Fink summarizes in his book chapter, is "What happened to Steve Reich?" (That question was raised at the 2013 Society for Minimalist Music conference, during a panel that I was at; I'm not 100% sure about this, but I vaguely remember being the one who asked it?) Here's Fink: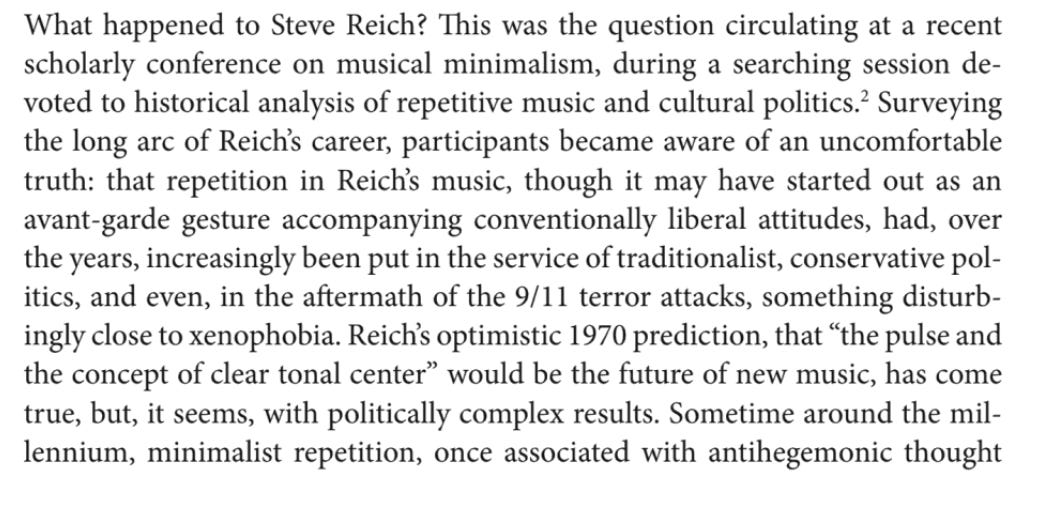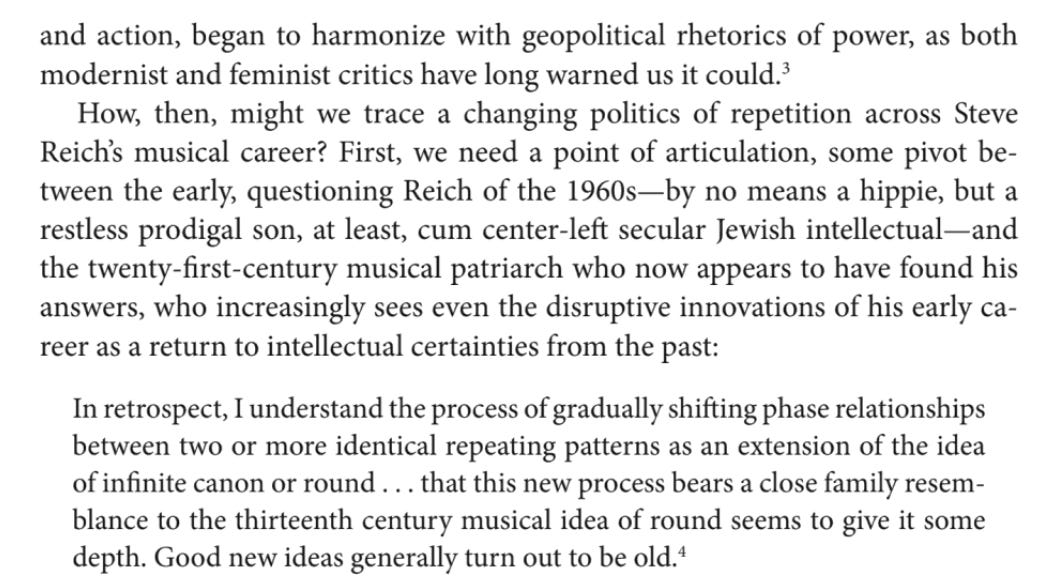 These are huge issues, ones that the volume as a whole tackles in a few fascinating ways. Reich's career asks a different set of political questions than that of Adams, but both scrubbed early misfit work from their catalogue: they are careful curators of their legacies and narratives. Perhaps a drone-y synth experiment about hockey doesn't fit in easily with the composer of Harmonielehre. We could chalk this up to Radicals Selling Out To The Establishment, or The Co-Opting Of the '60, or maybe just Composers Being Composers. (They aren't the first to disavow early music they didn't like! Juvenilia is called juvenilia for a reason.) It's probably all of the above; it's our job as musicologists to pursue the stuff that Famous Composers don't want to talk about anymore, because someone should talk about it. Memoirs (Adams and Glass both have them) are fun reads but also myth-making enterprises; we need to dig deeper to find out what really happened.
---
One of the reasons I was looking forward to Palmese's article was to read more about Ktaadn (1972–74), a piece you probably haven't heard of, but which—and here's a Big Scoop From My Book!—has an ancillary significance for Bang on a Can. It's an indeterminate choral work, heavily influenced by Cage and Thoreau. As it turns out, Bang was hoping to perform Ktaadn at its very first marathon in 1987 at the downtown gallery Exit Art. NYU's Downtown Collection houses the Exit Art archives, which includes a trove of Bang materials that I've spent some time with. They include Bang on a Can's initial proposal to Exit Art pitching the festival—a document that, as far as I know, hasn't been examined by any other scholar, and which the organization's founders likely hadn't seen in decades until I showed it to them last summer. The proposal includes a draft program, a list of all the pieces they wanted to perform. Most of them, like Louis Andriessen's De Staat and Milton Babbitt's Vision and Prayer and Steve Reich's Four Organs, ended up on the schedule; some, like Terry Riley's In C, cropped up on subsequent Bang events. But a couple, including a potential work by Ellen Fullman (!!!), never manifested. And the list, oddly enough, includes Adams's Ktaadn—a piece that hardly anyone would have known about in 1987, much less want to program. (Remember, 1987 is the year that Nixon in China premiered; Adams was far, far away from his Cagean phase.) Anyway, I asked David Lang about Ktaadn last summer and he said that he actually sang in the premiere when he was at Stanford, and it was a transformative experience. Interesting stuff. Wanting to play Ktaadn—which they never have been able to—does fit neatly into Bang on a Can's originary agenda of programming radical pieces by no-longer-radical composers. But you'll have to read my book for more on that.
---
Another tangent. Only a few hours after arriving at Bang on a Can last Saturday, I started to think about Sheep's Clothing. Really, I've been thinking (and writing) about it for a couple years, but a moment at MASS MoCA got my brain whirring again. The Bang fellows (who are superb musicians!) spent a week working with Found Sound Nation, the organization's educational outreach initiative, on collaboratively written, quasi-improvised pieces based on text scores, which were executed in an ambulatory concert on Saturday afternoon. (Read media fellow Elias Gross's astute review for more details.) It was theatrical, emblematically experimental (there were balloons, and plainspoken monologues), sprinkled with references to the classical tradition, and reminded me of this: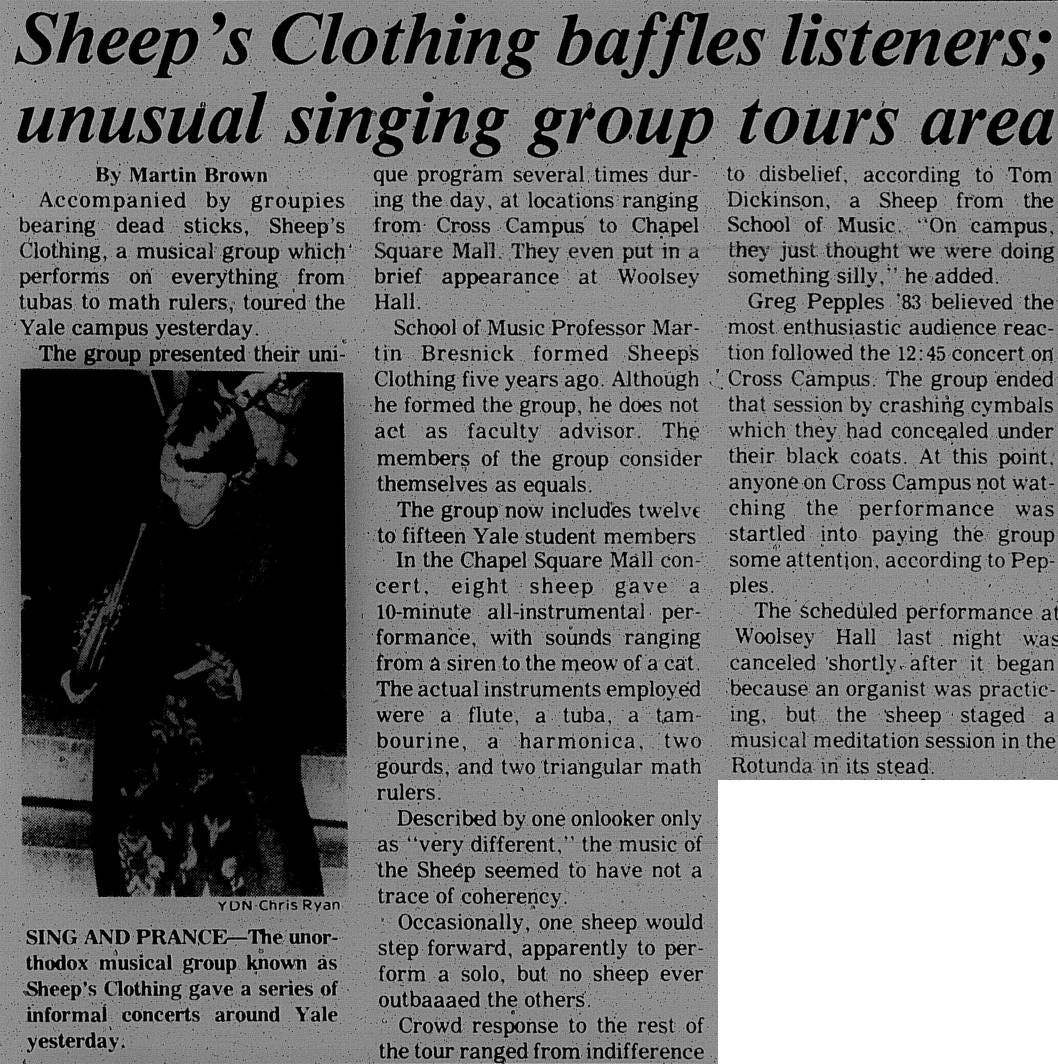 That's from the Yale Daily News, October 1982. The Sheep were a Yale collective of mostly undergrad musicians dedicated to collaboratively realized, experimental compositions—not unlike what the Bang fellows performed last weekend. They were first assembled in a seminar led by Martin Bresnick, but the effort spilled beyond the classroom into a student-run, cooperative organization that put on all-night dorm marathon concerts in which students could bring sleeping bags and hear the likes of In C and Les moutons de panurge. Sound familiar? The concept was the direct inspiration for Bang on a Can's marathons. While a grad student at Yale, David Lang spent a year or so hanging out with the Sheep and writing music for kids' rayguns and a vegetable orchestra. He participated in the concert described in that article above.
Gordon attended the Sheep performances, Wolfe heard about them (the collective petered out around 1983), and the idea grew on them. The immersive, informal experiences aimed towards a non-specialist audience, the eclectic programming, and extreme-length concerts all directly fueled Bang on a Can's early agenda. But the Sheep were also very much infused with a post-Cagean engagement with indeterminacy, improvisation, and theater—text and graphic scores, weirdo concepts explored in live performances. That wasn't quite the kind of music that Gordon, Lang, or Wolfe themselves wanted to create: the programming ethos of Bang on a Can flowed partly out of the fact that all three preferred to write fully notated music for classically-trained performers. They were capital-C composers, an ethos that not only stood out from Sheep's Clothing, but also the broader downtown scene of composer-performers who hung out spaces like Roulette and Experimental Intermedia, and had their own attendant festival, New Music America. (Again, a lot more on this in my book.)
---
Why is my brain putting these various things together in one newsletter, besides that I'm in the midst of a pretty exhausting/enlivening week? What does Palmese's revisionist look at Adams have to do with Sheep's Clothing? Well, there's this (Palmese, again):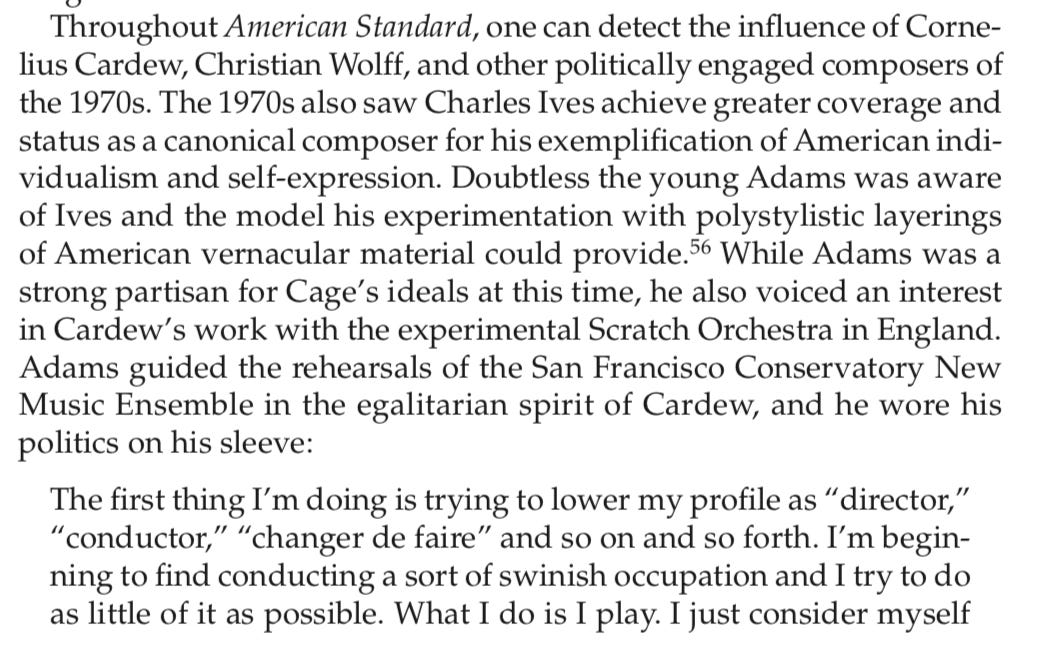 Proposal, debate, and vote! Before reading this, I hadn't known that the young Adams was inspired by Cornelius Cardew's socialist politics. From my conversations with former Sheep Evan Ziporyn and Dan Plonsey, it's clear to me that the Sheep were, too, Cardew and Scratch Orchestra acolytes, readers of Stockhausen Serves Imperialism. The Sheep students collectively and democratically governed their ensemble, creating music with and for each other that did not require classical training or a traditional music education, with the idea that subverting hierarchies between composer, performer, and listener could undermine the bourgeois conventions of the traditional concert experience. Heck, it might even help overthrow capitalism! Such are the dreams of twenty-year-olds in New Haven dorms in the late '70s.
That wasn't really a lesson that Bang on a Can took from the Sheep, from what I can tell. It's a knotty issue, but one I think I've mostly figured out in my book manuscript, and requires many more words than I can spill here.
But I'll leave you with this. Should new-music institutions be collectively governed? Is Bang on a Can a democracy? If so, how? And if not, does it matter?