a new article
I've got a new journal article out! It's called "Horizons '83, Meet the Composer, and New Romanticism's New Marketplace," and it's in the new issue of Musical Quarterly. You can read it to free (no paywall) here; I recommend reading the PDF, because that's the way it's meant to look. If you want the cliff notes, check out my Twitter thread:
If you've been following the newsletter, some of what I discuss in the article should sound familiar. It's a version of Chapter 2 of my book, but with Bang on a Can basically scrubbed out — it's about the NY Phil's Horizons festival in 1983, and Meet the Composer's backing, and the idea of New Romanticism. The final section, which deals with what New Romanticism excluded — women and composers of color — I didn't end up having room for in the book (and is a little bit of a tangent from what the book's about).
I think everything I have to say about the content of the article is *in* the article, and I hope you read it. It's very much written—as the book is—in a style that should be accessible to anyone who is interested in the topic.
So I thought I'd talk a little bit about process.
---
First, the research process.
One thing that's tricky with regards to my research process is that I have a terrible memory for certain things. Process is especially tricky for me to remember — I have a hard time remembering where some of my ideas originated, or how they developed prior to where they are today. (One of the reasons I'm doing this newsletter is to create more of a paper trail for myself.) When I go back and look at passages from my dissertation, I'm often surprised by them — once stuff is written down, I tend to forget about it. So I don't really remember how I first got to thinking about Horizons and Meet the Composer as important developments in new music. My original dissertation plan was to focus on new-music institutions from the '80s to the present, with case studies on Bang on a Can, Bedroom Community, New Amsterdam, and yMusic. By the time I wrote the diss that changed a lot — it ended up being about post-2000, and mostly New Amsterdam and yMusic — but at some point during the research it became clear that Horizons and John Duffy's MTC were key precursors for Bang on a Can. I did some forensic musicology of my email inbox and dissertation folders, and I'm guessing I started to factor in Duffy's importance around 2015, likely after reading interviews with David Lang, and Lang's great Horizons essay. By the time Duffy passed away in 2015, I was very interested in Meet the Composer's history — perhaps spurred by the fact that its name had been resurrected for a podcast — and attended the heartfelt memorial service held for him at Roulette. At the time, I was really preoccupied with thinking about the style wars of the late twentieth century — I think about them less now — and it seemed significant that the memorial gathered together the likes of John Corigliano, Steve Reich, Muhal Richard Abrams, Tania León, and others.
Similarly, this picture — which I got later, from the booklet that MTC created for its Orchestra Residencies Program — seemed significant.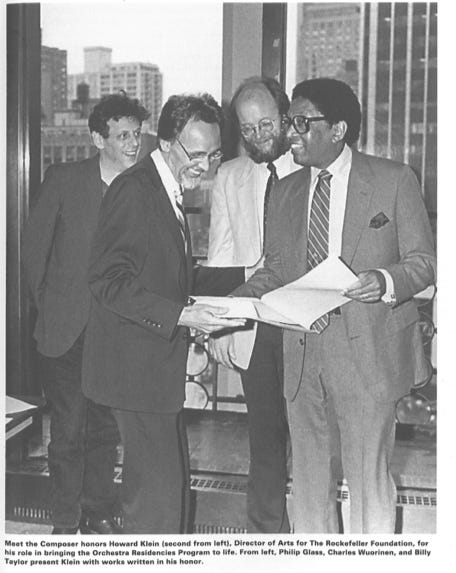 Philip Glass and Charles Wuorinen are theoretically mortal enemies in the style wars, but there were institutional contexts that brought them together—with Billy Taylor, too. (Howard Klein is a fascinating figure, who admittedly gets short shrift in my book; read Sasha Metcalf for more.) If we don't overlook the institutional contexts, I reasoned, maybe we can find something new to say about new music in this period.
I also wrote a bit about Duffy's importance for the 2016 redux of Symphomania, when the relationship between orchestras and new music was very much on my mind. There ended up being about a paragraph about Meet the Composer in my dissertation. In the course of thinking about the relationship between dissertation and book, I began to think a lot more about MTC, because I recognized that the dissertation and the book would not be the same thing: the book (1980s/90s) would be a prequel to the dissertation (2000s–2010s). If a book were to focus on the emergence of Bang on a Can, it would need to have a crucial pitstop at the Horizons festivals. When I assembled that list of archives for the book research I conducted in summer 2017, I was looking for MTC/Horizons documentation, and I found a lot of it: first, at the NY Phil's amazing archives (thank you, Barbara Haws!!), then at NYPL's Jacob Druckman collection (thank you, NYPL librarians!!), then in MTC's own archives, which are held by its successor NewMusicUSA. The first two publicly are publicly accessible; for the third, I visited NewMusicUSA's headquarters and spent a few days sifting through a few dozen boxes they had pulled from a storage facility for me. (Many, many thanks to Ed Harsh and NewMusicUSA's staff!!) I took photos of hundreds of pages of documents — the NY Phil has digitized much of their collection, but not the Horizons materials — and spent fall 2017 writing a massive Book Chapter #2 on Duffy, Meet the Composer, Horizons, New Romanticism, and Bang on a Can. The first draft clocked in at like 120 pages or something. There was a lot to cover. It ended up being the first chapter of the book I wrote.
As I whittled the chapter down (it's now a tight 49 pages), I saved the long version to whittle down in a different way, into a journal article. If I excised the Bang on a Can context, it could tell a story independent of the book, and develop areas that didn't feel wholly relevant to the book — like a longer discussion of New Romanticism as concept, and the protests that Raoul Abdul led against Horizons' discriminatory programming. (I discovered Abdul's role in the NY Phil's archives — all of his correspondence and newspaper articles around the issue, telling the full story, were in a folder together.)
---
Second, the article process. I knew I wanted to submit a "big journal article" related to my book, and given that this chapter got done first, and dealt with issues that could be easily extracted from the larger book context, it made a lot of sense. Prior to this article, I've had three journal articles published — on early American hymnody in Journal of Musicology, on indie classical in the Journal of the Society for American Music and on yMusic and neoliberalism in the Journal of the American Musicological Society (all available here). I spent a while thinking about what journal would be a good fit, and realized Musical Quarterly, which has a strong focus on musical institutions, would be a good fit. So as I whittled down the Big Chapter into a More Concise Article, I tailored it to MQ's style guide (which yes and ewww, meant endnotes rather than footnotes). I sent it to a couple friends and got very helpful feedback before I sent it to the journal.
Do you know what happens when you submit a journal article? Basically, you choose a journal, send the article to the journal, and an editor (usually a fellow scholar) looks at it and chooses 2–3 other scholars who work on similar subjects to send it to. Then it's peer review time: they read it (without knowing who wrote it) and write reports about its contents, noting whether it should be accepted to be published by the journal; be significantly revised and resubmitted (and then usually sent back out for peer review); or if the journal should reject it entirely. The peer review process is supposed to take around 8–10 weeks for most journals; sometimes it's quicker, often it's much longer.
There are a lot—a lot—of horror stories about peer review. Probably more horror stories than happy stories. You'v probably seen memes about "Reviewer #2," the mythological scholar who writes some kind of scathing/annoying/self-aggrandizing peer review report that is not only useless, but often actively inhibits the career of a younger scholar. That said, I've been extraordinarily lucky with journal submissions thus far in my career. My previous three articles all had fairly reasonable turnarounds as far as review timeline went — all three were "revise and resubmits" — and the reviews were almost always encouraging and helpful. Some of that has to do with, I think, the fact that I'm not writing on stuff that a lot of people have already staked a claim over — if I were to wade into the territory of, say, 19th century opera or Renaissance madrigals, it's likely that a senior scholar in that area would have a lot more to say about how my work was lacking.
Anyway, I submitted the MQ article in January; it was sent out to peer reviewers in February; it was accepted in May (yay!); I received a copyedited manuscript in October and offered my own responses/edits; I got proofs (basically, an almost-final version of the article as a PDF that looks like it does in the journal) a couple weeks after that, and sent in corrections to them; and it was just published last week. That's a very fast turnaround — definitely the shortest timeline I've had for an article — and I'm really grateful for the MQ editorial team for their great (and remarkably quick!) work. I'm also really grateful to the NY Phil archives, who let us publish, *for free*, some really amazing photographs.
---
One more thing about process. One does not get paid for writing musicology journal articles, in case you didn't know this. (One also doesn't typically get paid for peer reviewing journal articles.) The idea, in theory, is that it's part of your regular intellectual work as a scholar, and that if you work at a research university — as I do — your salary goes towards the labor of journal article-ing. For me, that's actually true; it's not, though, for adjunct professors who are paid per-course and do not receive any kind of funding towards research. But they publish nonetheless, out of career necessity and out of the fact that it is a vital service that scholars offer to the world: the generation of knowledge!!! So that's a broken part of this system.
The extremely broken part of this system is that we live in a bullshit corporate capitalist world in which we generate new intellectual ideas for free — sometimes, as in my case, with my salary coming from the public (I'm a professor at a public university) — and they are edited by non-profit journals, and then they are hidden behind paywalls that charge the public anywhere from $30 to $1000+ to read them. These paywalls are run by for-profit conglomerates that make massive amounts of money despite contributing very little to this ecosystem; if anything, they inhibit our research, rather than make it more possible. If you are an independent scholar or adjunct or at a smaller university, you or your library may not be able to afford multi-million-dollar subscriptions to journal databases, and you are thus shut out of doing crucial research. We need to put pressure on journals, academic societies, and publishers to embrace open access approaches, and to look to alternative, publicly accessible models instead of a garbage system that extracts profits from our unpaid labor.
All of that said, a tip for those who are working in the broken system but want to make sure that their articles can still be read: for the journal articles I've published thus far, I've asked the editors if they would request the publisher to make the article open access, at least for a limited amount of time. I've made this pitch by citing my number of twitter followers and public presence, and that it would be good publicity for the journal. Almost everyone has said yes, which is why you can read my MQ article. It obviously seems to work, as my new article is now MQ's most popular read.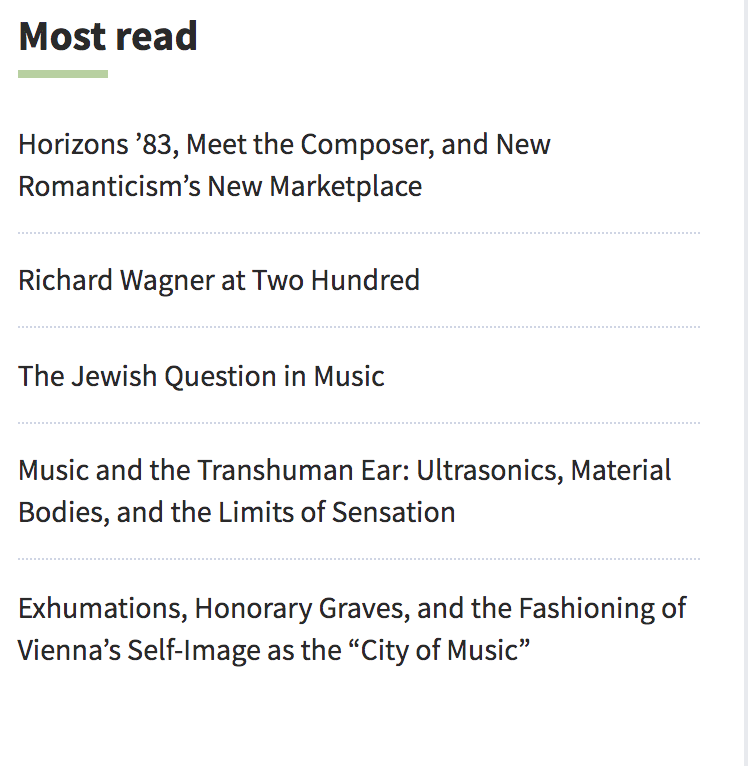 This isn't a solution to the structural problem, but it at least can help make sure that your work gets read.
---
We started letting Georgia onto the couch, and she's feeling pretty good about it.